By LeeAnne Lavender, PeerSphere Storyteller
Ross Dawson, the host of the PeerSphere peer learning community (PLC) for elementary and primary principals, is an educational leader with 26 years of experience in Hong Kong. His passion for educational leadership and dedication to supporting his peers shine through in his role as the host of this innovative PLC.
"For the PLC, a coaching background is helpful for building trust and setting up that culture for learning, especially with the elementary leaders," says Ross, who studied the psychology of coaching at Sydney University in Australia.
As a seasoned leader, Ross understands the importance of connecting with peers, especially in a role that can sometimes feel isolated.
"It can get lonely as a principal. That's one of the things we talk about," Ross noted.
Ross's PeerSphere PLC has attracted approximately 20 participants, providing a platform for leaders to share their experiences and challenges. The sessions encourage elementary school principals to reflect on their unique journeys and gain insights from one another.
"As leaders, we don't really give permission to spend time on ourselves, and this is what PeerSphere does," Ross highlighted. "We can spend those 5 sessions, for 90 minutes each time, focused on us. It's really important."
Ross is sensitive to issues of leadership burnout and the importance of self-care, and he believes that this emphasis on personal growth and reflection is what sets PeerSphere apart.
The participants in Ross's PeerSphere PLC represent a diverse range of school environments and sizes, offering a wealth of perspectives and mentorship opportunities. Ross would love to see his virtual network expand into some face-to-face settings for leaders who work in the same cities, as well.
Ross first came to Hong Kong as a classroom teacher before becoming a deputy principal at Victoria Shanghai Academy. He took some time out in 2014 to study in Australia while also working as a private educational consultant and coach and then returned in 2016 as an elementary principal at Victoria Shanghai Academy. Ross has a background in teaching art and information technology, is an IB workshop leader, school visitor, and consultant. His varied roles and experiences bring extra depth to his insights as an elementary school leader.
Ross Dawson's dedication to transforming elementary school leadership through peer learning is shaping a more connected and empowered community of educational leaders and Ross is looking forward to the second live session with his peers.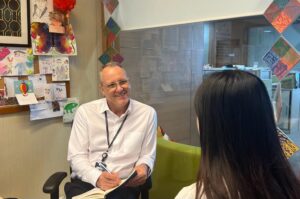 Ross with a teacher at Victoria Shanghai Academy.